OK. So it's 95 degrees outside with 80% humidity. Probably not exactly the picture of a 'winter wonderland' ... not even for Texas. In fact, I'm still (not so) patiently waiting for the first good cool front to usher in fall.

But despite the oppressive heat, I've got Christmas on my mind. I think my mind starts to drift to the holidays as soon as school starts each year. There's something about getting back on a schedule, into a new routine that has me looking further and further ahead on the calendar.

It's no secret that I dig the holidays. In our house, celebrations start with birthdays in October, followed by Halloween, next comes Thanksgiving, and we wind things up with Christmas and New Years all jammed in together. Once the party starts in October it doesn't seem to slow down until January.

So ... along those lines I have started playing around with holiday card designs for 2010. I even put holiday tunes on my iPod to create the right mood for the design process. Here is a sneak peek at the first few designs ...

1. Joy to the World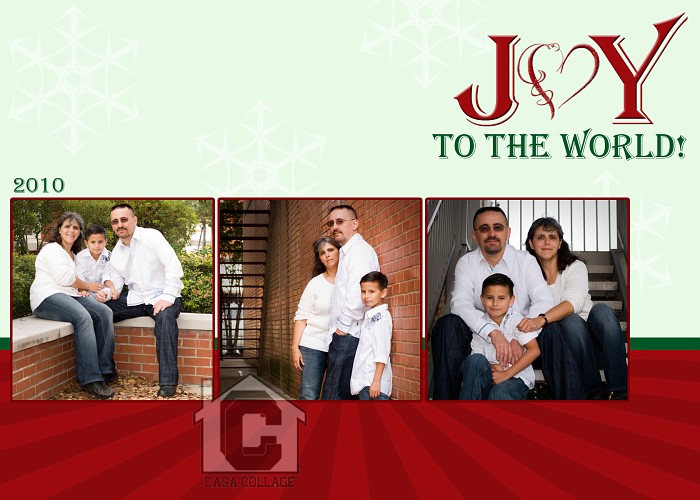 2. Family Tree



3. Snowflakes



4. Ho! Ho! Ho!



To go along with new designs, I'm also announcing our 2010 Holiday Mini-Sessions Special...

Book a session before October 24th and get a half hour shoot with as many as 5 people, up to 10 low resolution images for email and Facebook, and 25 - 5x7 cards with envelopes for a special low rate. (NOTE: Sessions can be booked for dates up to and including November 14th. They just need to be on the schedule before October 24th.) Email or call for pricing.

To keep track of other new designs as well as a review of previous year designs, check out our Holiday Card Gallery.

Forget what the calendar says, let's have a little festive fun RIGHT NOW!