this week's theme at I *heart* Faces is called "Faces & Flowers."

Like many of the female persuasion ... I just love flowers. I love the way they look. I love the way they smell (most of the time). I love watching them bloom. I love it when they sway in the wind.

I've mentioned it before, but Spring is a seriously short season here in Texas. Already the blue bonnets have gone to seed. The butter cups and Indian paint brushes have faded away. And only a few sunflowers remain roadside.

Sure, there are beautiful gardens throughout town. And the TAMU campus stays in radiant bloom all year long. But those semi-natural roadside nuseries have all but faded away. [Note: I said 'semi-natural' since most county and State offices actually seed the roadsides. I'm not complaining though. One of the best ways my tax dollars are spent, if you ask me. ;+) ]

So with that in mind, I don't take even the smallest bud for granted. Last year, right about this time, on our daily walk home from school, my little sweet heart surprised me with a fist full of flowers he picked ... JUST FOR ME!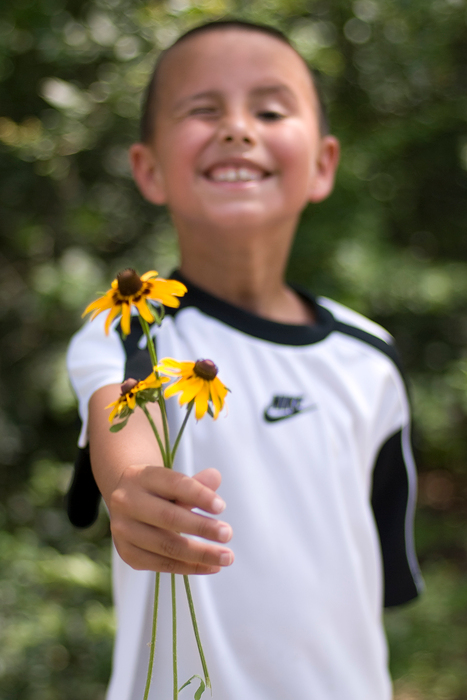 What more could a mom ask for (except the moment or two to grab the camera to make sure that this bouquet lasts for ever)?!

When I look at this photo, not only can I recall the sweet scent of the blooms, but also the warm (& yes, humid) breeze blowing. I can hear my boy declare "just for you, Momma!" as he proudly presented his find. And I can still see the proud grin he wore as we found a vase and the PERFECT spot on the table to display them.

Just for me.

What can I say? It sure feels good to be me sometimes.

Now ... why don't we all hop on over to
to see what else is blooming this week!